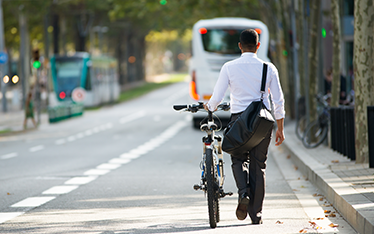 O Programa de Engenharia de Transportes da UFRJ participa de mais uma publicação importante. O artigo MRV framework and prospective scenarios to monitor and ratchet up Brazilian transport mitigation targets é resultado da parceria entre George Vasconcelos Goes e Márcio de Almeida D'Agosto, docentes do PET, Daniel Neves, doutorando do PET, Emilio Lèbre La Rovere, docente do Programa de Planejamento Energético da UFRJ (PPE/UFRJ) e Renata Albergaria de Mello Bandeira, do Instituto Militar de Engenharia (IME). O presente estudo foi publicado no Climate Change, um periódico acadêmico de grande relevância internacional.

Confira, abaixo, informações referentes ao estudo publicado:
MRV framework and prospective scenarios to monitor and ratchet up Brazilian transport mitigation targets
Abstract: Transitioning from a carbon-intensive development path to a low-carbon economy requires understanding of emission sources and its drivers. To achieve Nationally Determined Contribution targets discussed under the Paris Agreement, countries must project emission baselines considering different levels of ambition and sectoral performances and monitor government policies and mitigation actions. This study develops a Monitoring, Reporting, and Verification (MRV) framework based on energy use and carbon emission scenarios for Brazil up to 2030, focusing on transport. Three scenarios are developed based on different political commitments. All scenarios and mitigation actions are discussed under the Brazilian Forum on Climate Change, which is recognized as one of the most important institutional instruments of the National Policy on Climate Change. Results reveal a 41% abatement in CO2e emissions when comparing the most ambitious scenario to the conservative one. MRV framework indicates that Brazil is on track to a low carbon economic transition, although joint action is needed. This is mainly due to the increasing penetration of bioenergy into the transport energy matrix, while electromobility does not expand in Brazil at the pace of major international players such as Europe and China. Special contribution of this paper is on the role of bioenergy in prospective carbon emission scenarios, which is a lack in the literature.
Keywords: MRV. NDC. Transitioning narratives. Energy efficiency. Prospective scenarios.
Clique AQUI e confira o artigo na íntegra.